It seems like Winter would never end.  The snow, the cold, the high heating bills!  And yet, time marches on and Spring has finally come.  In a few short weeks, the weather is going to dry up and summer will descend upon Kettle Falls with its BBQ, sailing on the Columbia River, swimming, and the hot and dry weather.
The area we live in is beautiful, there's no argument there.  But that beauty comes with a danger.  We live in an area prone to wildfires.  Look around, there's an awful lot to burn out there.  A stray lightning strike, a trash pile burn that gets out of control, even a dead tree that falls on a power line can translate into disaster in a matter of minutes.  (Did you know that the Boyd's wildfire from a couple years ago was caused by a tree falling on a powerline?)
As residents, we have to do our part to protect our property from these disasters that can strike literally with no notice.  Your fire department will do its very best to respond to emergencies, but in a rural district, it takes time to respond, to gather resources, and to get those resources to you.  And in a major disaster like during a wildfire, resources may be stretched beyond capacity.  Sometimes — often — it will be what we do to prepare our houses and properties that will make the difference between saving our homes and losing them completely.
How prepared is your property? Are you ready for a fire?
The National Fire Protection Association has put together a flyer titled How To Prepare Your Home For Wildfires. You'll find it a handy reference and we include it for you in this newsletter.
What is important is to make your home fire proof.  Barring that, make your home defensible.  When firefighters are faced with a wildfire that threatens multiple homes, sometimes painful decisions must be made as to which home can be saved and which home is unsalvageable.  If you have dead trees up against your home, tall dead grass surrounding it, and a narrow, one-way road onto your property, there may be nothing that can be done to save it.  That is why it is important, now, to make ready for a disaster that hopefully will never come.
Better to be prepared and not need it than need it and be unprepared.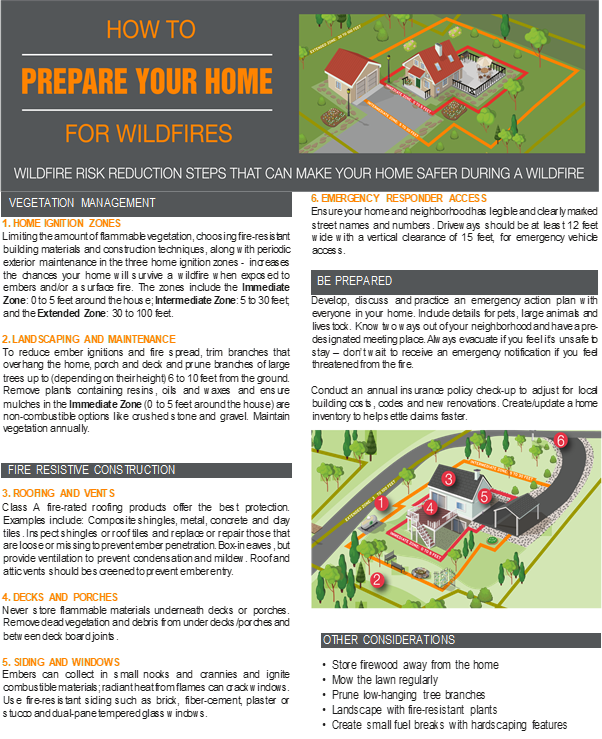 Be vigilant with your landscaping. You don't want this happening on your property!